The last step in configuring Intellek Deliver for learners is to associate content from the Content Store and associate it with the appropriate captured controls.
1.Click the Content Store tab in the right panel.
2.As needed, expand the Content Store tree to see all available content items.
3.Drag the appropriate content item to the captured control.
In the graphic example, the elearning course "Insert Comments" should be associated with the New Comment captured control.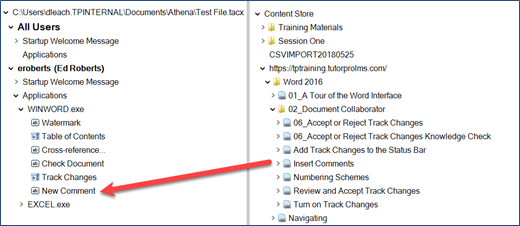 Using the graphic as an example, the content items "Add Track Changes to the Status Bar," "Turn on Track Changes," and possibly "06_Accept or Reject Track Changes" and "05_Accept or Reject Track Changes Knowledge Check" could be associated with the Track Changes control on the left.


The associated learning will display in the Intellek Deliver window to end-users in the order in which it is listed under the control. Drag/drop the content under the control to reorder the content as needed.
4.Repeat this process until all content has been associated to the appropriate captured controls for all groups and individuals.