1.From the Users tab, drag the appropriate User name or AD group to the left panel.

You may want to select yourself or a small group, such as Training (if available), and follow the remaining steps for testing and getting acquainted with the product.
2.Repeat the drag-and-drop for each user or group.
3.Each end-user or group will then have a separate Welcome Message and assigned applications.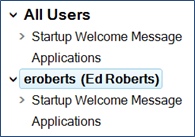 To delete a User or Group, right-click on the name, and select Remove User.