Feature Enhancement & Bug Fixes

Available September 2, 2021
NEW
Top Courses by Completion chart and export is now available on the Analytics > 3-dot options > Courses page.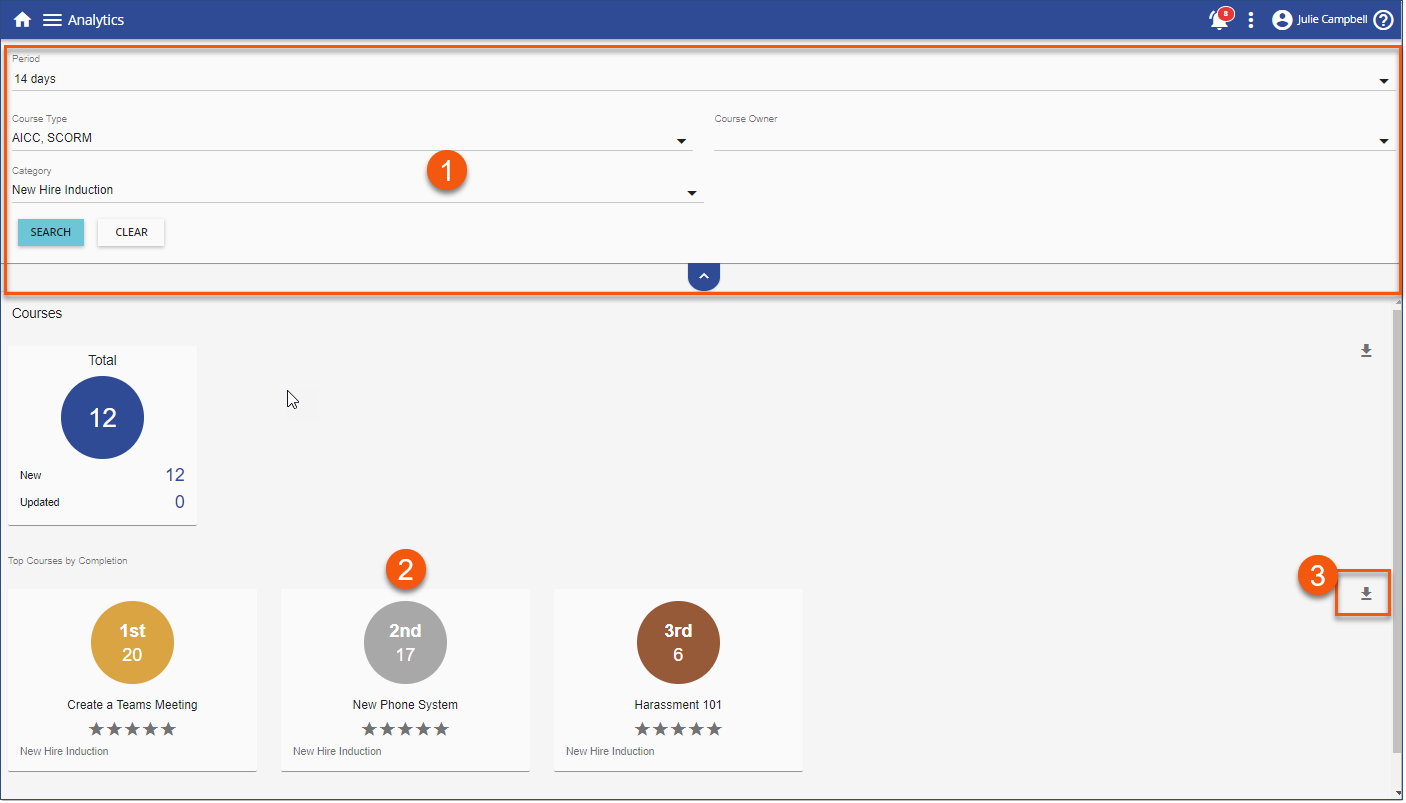 1.The chart takes advantage of all of the filters available for the New and Updated Courses chart.
a.Updated is reflected here when:
i.an admin changes the value:
1.Name
2.Description
3.Duration
4.Duration Unit
5.Delivery
6.Subdelivery
7.Search Keywords
8.Vendor
9.Show Completion Pop-up
10.Browser Compatibility
11.Language
12.Owner
ii.An admin updates the content files.
2.The charts display with the filters applied
3.Export a report of ALL courses completed within the specified time frame with the filters applied.
Export includes the following columns.
o#
oCourse ID
oCourse Name
oCategory
oTotal Count
oCourse Type
oDelivery
oSub-delivery
oDuration
oDuration Unit
oRating
oRecord Status
oOwner
oCard Description
oDescription
oSearch Keywords
oVendor
oAccess
oRelevance
oLearner Link

ISSUES RESOLVED:
•My Path - Prevent users from launching multiple required courses from a Path when the completion rule is set to Complete In Order (9902 FordH)
•User Selector - User selectors across the application now show only those users that your security profile dictates (10063 MayerB, 10073 TCoburn)
•Analytics > New/Updated Courses chart and export do not reflect data from the specified Period. (10127 H&H)
----------------------------------------------------------------------------------------------------------------
Any Issues listed below this line were added after August 23, 2021 when LMS v3.32.0.0 Release Notes were originally made available.
----------------------------------------------------------------------------------------------------------------
•Library search results aren't putting the closest matches at the top of the results (10067 RPC)