Feature Enhancement & Bug Fixes

Available March 3, 2022
NEW
Library > 3 dot options > Categories list includes filter options to view the Categories list by record status (All, Active and Inactive). Active Status is the default view.
The following History Statuses have been added to the Learning Record > Courses view. Use the Advanced Search option to filter the view by these statuses.
•Enrolled
•In Progress
•Not Started
The following History Statuses are displayed by default:
•Approval Declined
•Cancelled
•Event Cancelled
•Failed
•Finished
•No Show
•Passed
•Waived
When the Copy Event feature is used, any aligned Event Attachments will be copied over to the new Event.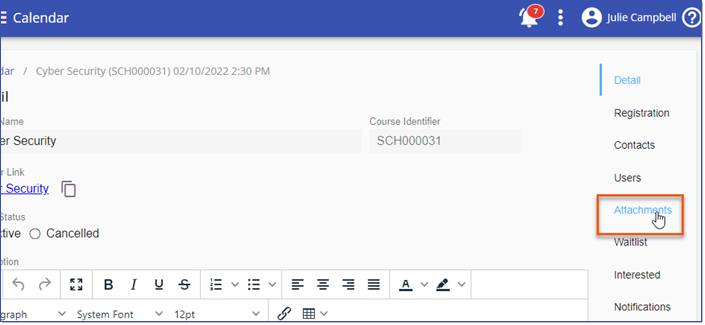 ISSUES RESOLVED:
•Reports - Clicking the Clear button should revert the page to its original state and should not execute the report (10916 IceM)
•Path Detail > Users - The grid count is incorrect after advanced searching by History Status (10952 DBR)
•Path > Detail > Users - The grid is not showing the correctly evaluated Include History From date (11020 SquareB)
•Calendar - Seats Taken indicator is incorrect for Location only or Location & Webinar Events in Month View (11043 MayerB, 11044 Jenner, 11045 McKool)
----------------------------------------------------------------------------------------------------------------
Any Issues listed below this line were added after February 28, 2022 when LMS v3.38.0.0 Release Notes were originally made available.
----------------------------------------------------------------------------------------------------------------
•Updated API documentation to reflect Intellek rebranding (11129)
•Course and Event Specific Notifications - I get a duplicate error when adding a new notification though I do not have duplicates (11143)
•Path > Detail > Users - I am unable to view the user's course history, clicking the course does nothing
•Learning Record - The 3 dot menu is missing on the Courses page
•Course Bulk Edit - trying to bulk edit the Category but had to select the Category twice before it would display in the drop down header
•Course Bulk Edit - I tried to bulk edit the Category but the changes did not save even though I saw the Saved message