Feature Enhancement & Bug Fixes

Available May 26, 2022
NEW
•Create custom security profiles based on permissions and user visibility of existing security profiles. Settings > 3-dot options > Security Profiles.
o1-3. Navigate to Security Profiles to view/manage Security Profiles.
o4. Click a Name/edit a current security profile to view the permissions settings.
o5. Add a new security profile - click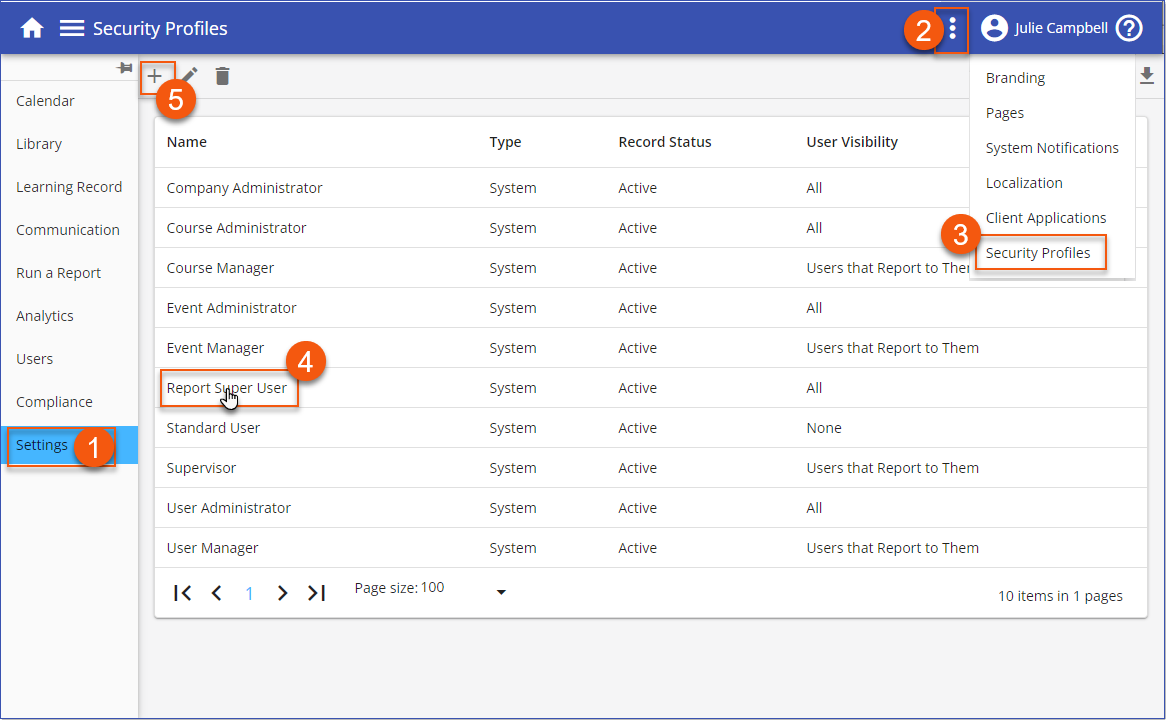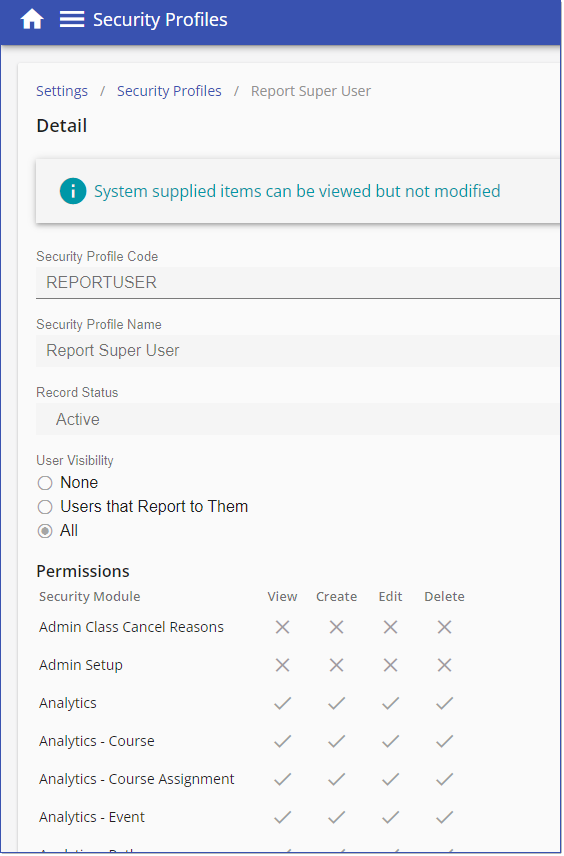 oSelect a current security profile to use as a template for the new custom security profile then click SELECT.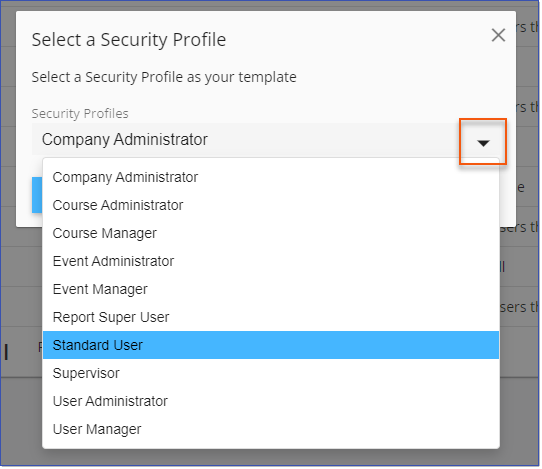 oDefine the new Security Profile:
▪Provide a Security Profile Name for the custom security profile.
▪Indicate the record Status - Active is required to apply the profile to users.
▪User Visibility - set profile to have visibility of No Users, Users that Report to Them or All Users in the LMS.
▪Assign action Permissions (View, Create, Edit, Delete) for each Security Module. You will be modifying current permissions, as displayed, for your chosen template Security Profile.
▪SAVE and be sure to fully test before aligning with users outside your test group.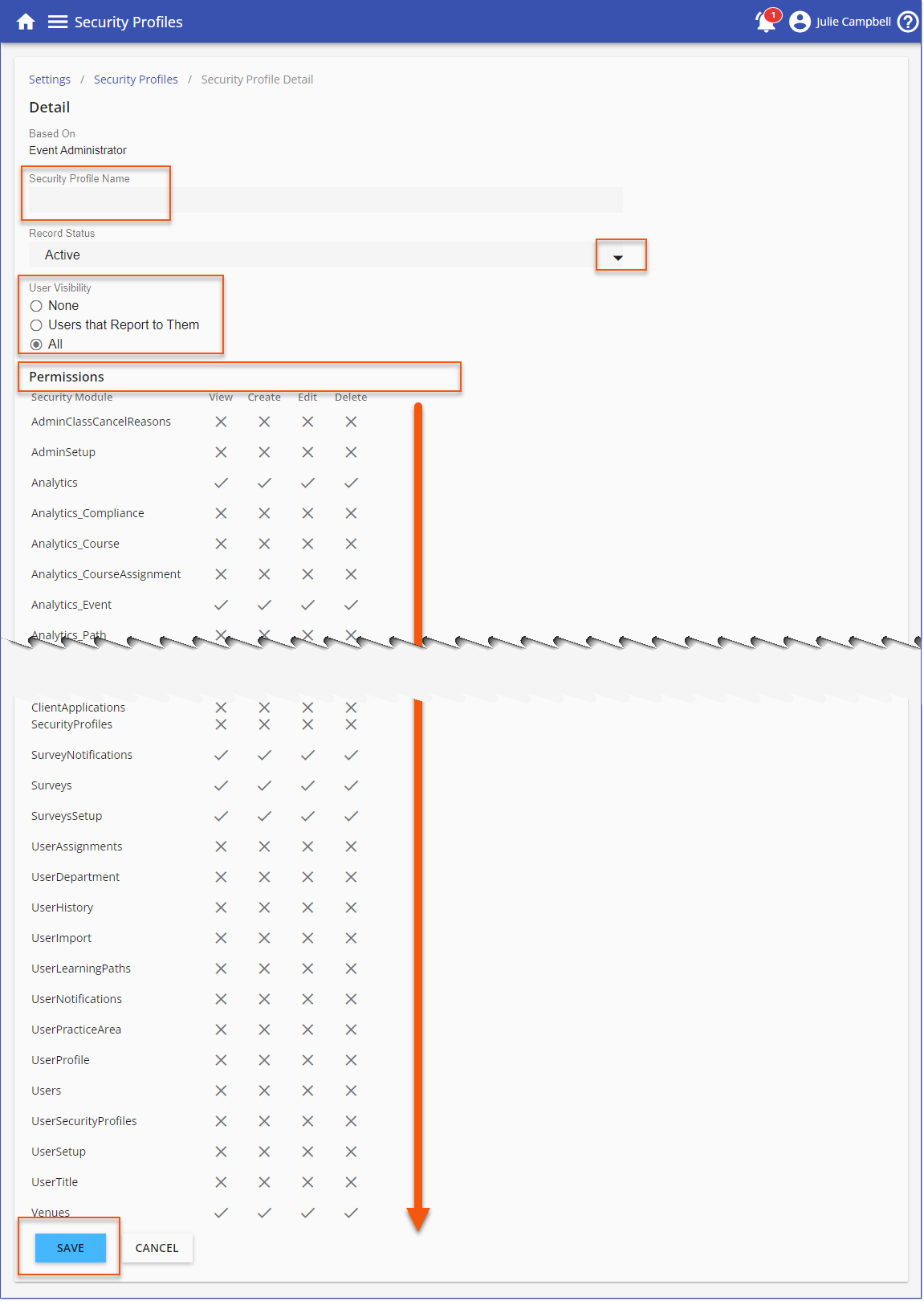 •Review system System Security Profile documentation for a complete detail of visibility and privileges. (not available before May 26, 2022)
oImproved image upload for Survey/Sections/Questions/Answers
oImproved interface, color & font settings
oKnown issues resolved
oUsers Assigned to this Survey prompt on saving (MNave11103)
ISSUES RESOLVED:
•Content Scores greater than 100% on non English PC Language and location
----------------------------------------------------------------------------------------------------------------
Any Issues listed below this line were added after May 23, 2022 when LMS v3.40.0.0 Release Notes were originally made available.
----------------------------------------------------------------------------------------------------------------
•No Saved message when creating a path specific notification. (10216)
•Course/Path Ratings do not display when clicked in Library (11782)
•(11792)
•API GetUsers resturns no records
•LMS Latency issues (11791 RPC, 11640 Hunton, 11685 Ogle)