Feature Enhancement & Bug Fixes

Available June 30, 2022
NEW
•Apply recurring Webinar Event information to new Webinars via Calendar > 3-dot options > Settings > Defaults > Webinar
oEnter settings to populate the Webinar fields each time a new Webinar is set up. These settings can be overwritten in the Event Detail page.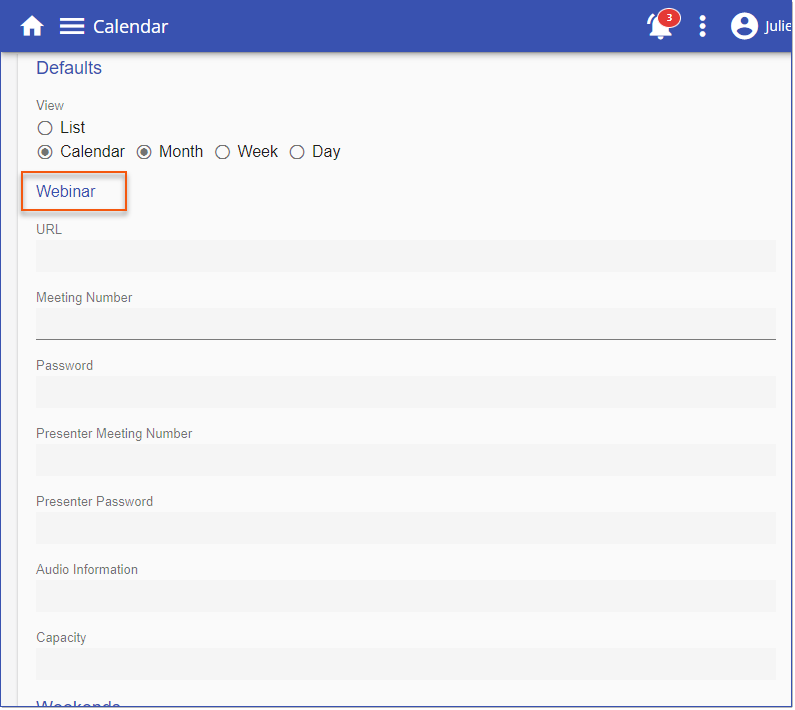 ISSUES RESOLVED:
•Create Account - Email validation is incorrect, the total length should allow 359 characters and the top level domain should allow up to 63 characters (11839 Abbey)
•Library - Filter by 5 star ratings shows items with no ratings (11649 MNave)
•Course - Interested - Admins do not see the Delete icon (11887 Simmo)
•Event Rosters - the Attendees aren't showing but the Contacts do show (11888 H&W)
•LaunchLinks are taking our users to the Summary rather than launching the course (11889 MayerB, 11831 StewMc, 11980 H&H, Gowling)
•Survey - unable to Save when a new version is required (11894 IceM)
•Certificates show strange characters for my French course name (11745 McMill)
•API - User Import - Security Profiles are being overwritten on my users who are set to Manual Entry (11815 ChapC)
•Library - significant latency when using the Free Text search (11499 StewMc)
•Analytics Path - Completion Count charts include inactive users but shouldn't (11677 MGC)
•Categories Edit - the Subcategories don't display the default image when inherited from parent category (11541 Procopio)
•Communication - Senders - The Course and Path Owners should be reset to TADMIN when you clear all fields and save a sender (11674 GStorrs)
•Event Rosters - the Attendees aren't showing but the Contacts do show (11922 SnellW, 11938 MayerB)
----------------------------------------------------------------------------------------------------------------
Any Issues listed below this line were added after June 30, 2022 when LMS v3.41.0.0 Release Notes were originally made available.
----------------------------------------------------------------------------------------------------------------
•