Feature Enhancement & Bug Fixes
Available April 6, 2023
NEW
Learning Record Default View Configuration
Administrators can set a default initial page view for Users navigating to their Learning Record. Users can switch their Learning Record page view via the 3 dot option.
Default Learning Record for Users - The default view can be configured for standard (non-compliance) Users to Courses or Paths.
Default Learning Record for Compliance Users - If your LMS is configured to use the Compliance module, the default view can be configured for Compliance Users (Users assigned to a compliance body) to Compliance, Courses or Path.
The Learning Record configuration options are available from Settings > 3 dot option > Pages: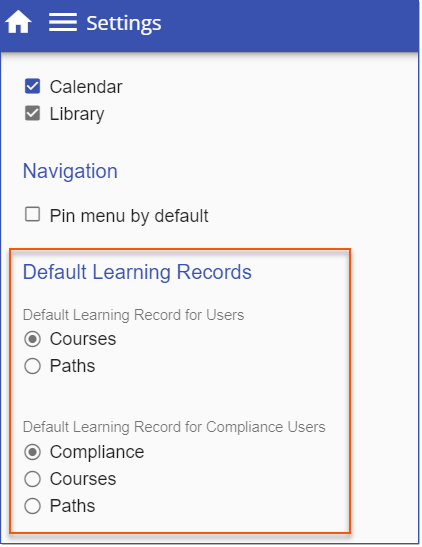 Default Learning Records Options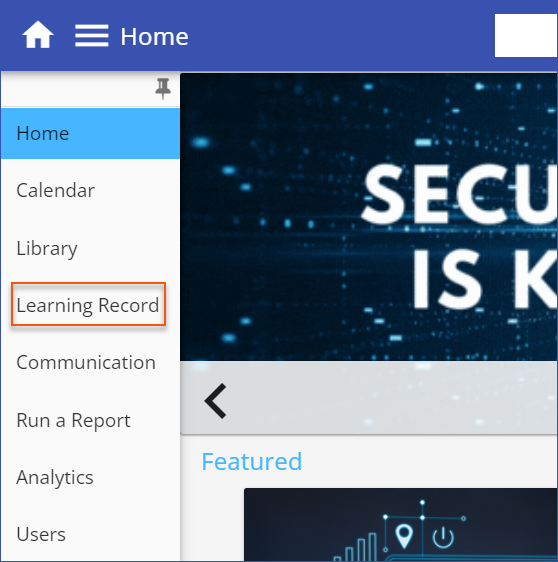 Learning Record
When Compliance is enabled in your LMS, the default view for any user assigned to a Compliance Body can be configured to display their Compliance Record as the initial view.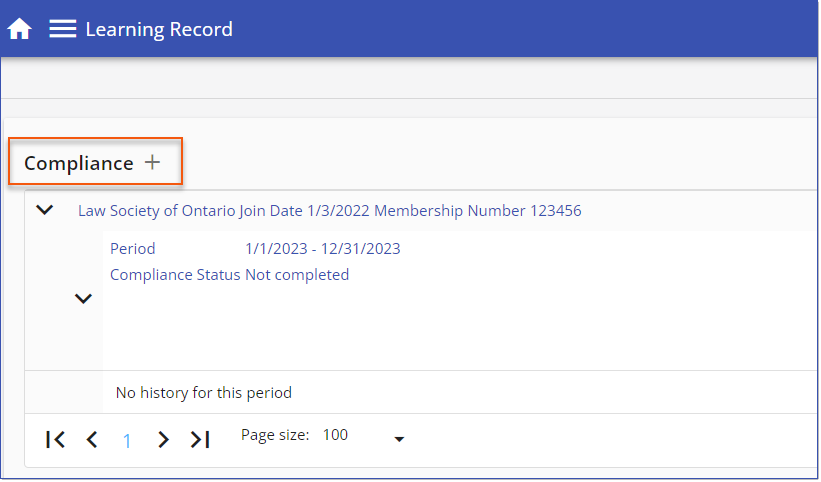 The Survey Completion Date is included on the Survey Feedback page of the Survey Summary Report for each User response.
•Run the report for the desired Survey and select a response to which User(s) responded.
•Select a User Name to see all responses from a particular user and view the Survey Completion Date.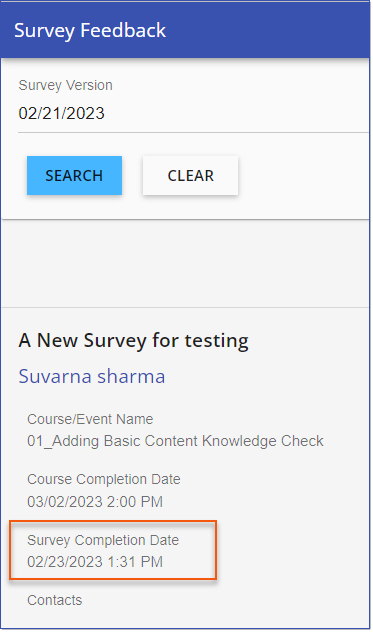 Survey Completion Date
ISSUES RESOLVED:
•Featured, Recommended & Trending cards not displaying the Description correctly (13535 )
•LMS API - Update Users timing out (12833 11855 SnellW)
•Users > History Search bar missing (11858 NSLT)
•Survey line break issue (12361 TCoburn)
•New Courses not saving custom image (13326 Abbey, 13765 MayerB, 10036 DBR)
•Updated flag on Course Card not showing (11724)
----------------------------------------------------------------------------------------------------------------
Any Issues listed below this line were added after March 8, 2023 when LMS v3.48.0.0 Release Notes were originally made available.
----------------------------------------------------------------------------------------------------------------
NEW
•Survey feedback - survey submission date (8199 Procopio, 13785 IceM)
•Learning Record, set Default View (2144 WMans, 9770 FP)
ISSUES
•Cancel email being sent for past events (13466 MayerB)
•Mandatory resource course on path issue (11857)
•Path notification not sending (13635 IceM)
•Trending courses not showing properly (13823, SnellW)
•Manager information not accurate in report (13791 SquareB)