The Survey Summary Report is used to view the Survey results or responses. Click on the Survey Name in the Search Results list to view the Survey responses.
Tips on Viewing Survey Results:
•Filtered selections such as report Course Date Range, Locations, etc., will display directly below the Survey Name.
•Click the

icon at the top of the Survey Results to show results from any published version of the selected Survey.
•Responses for each Question will display as a pie chart with the percentage for each Answer.
•Click on a Response to see which user(s) gave that Answer. Using the example below, clicking on PowerPoint 2016 would display the user(s) who selected this Answer.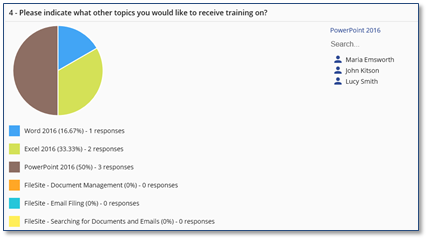 •Click on a User Name to see all responses for the Survey from a particular user.
•Click on the Export

icon to choose whether you want the Survey Details or the Survey Responses.
oThe Survey Detail Report is organized by the Question and gathers the number of Responses.
oThe Response Report includes the user name and how they answered each question.