1.Click the Name of the Compliance Body you want to include. Alternatively, click in the row to the right of the Compliance Body name, and then click Edit record

.
2.On the Detail page, enter the Vendor/Provider accreditation ID number in the Accreditation Reference field if applicable or known.
3.Select the In Use check box.
4.Click

.
•The Detail, Accreditation, Courses, and Users tabs now display on the right side of the page.
•The Accreditation tab lists the Accreditation Types assigned to this Compliance Body. This tab cannot be modified.
•To see the complete list of Accreditation Types, click the Accreditation Types option under three dot Options menu on the Compliance page.
•An Accreditation Type (Equality, Diversity and Inclusion) has been added to the Law Society of Ontario Compliance body to break up the previous (<Jan 1, 2021) requirement for Professionalism into two types.
oEquality, Diversity and Inclusion - 1 hour minimum requirement
oProfessionalism - 2 hour minimum requirement
Before 1st Jan 2021, any EDI courses should be assigned to the 'Professionalism' Accreditation Type. After 1st Jan 2021 they can be assigned to the 'EDI' Accreditation Type with a Date Effective From of 1st Jan 2021 otherwise they will show on the report but will not count towards the users' CLE credit for that period.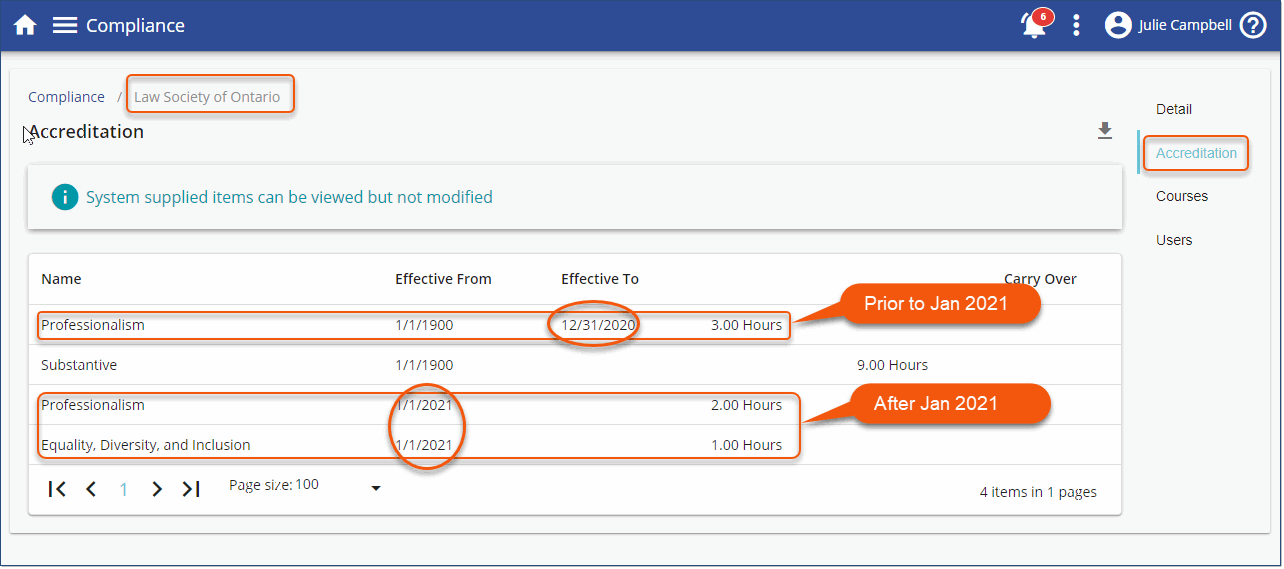 If compliance rules change for this Compliance Body, please contact support@intellek.io to have this list modified.