The Preview utility in Intellek Create provides the ability to run the content file to ensure instruction frames are sized appropriately, located in an appropriate location, and captured steps and alternatives function as expected. In essence, experience what the user will experience when running the Lesson or Assessment. Preview for a content file can be launched by:
•Clicking the Preview (arrow) icon at the bottom of a content file card in any content group of the Content Library.
•Clicking the Preview (arrow) icon in the Navigation bar of the Content Editor.
Once Preview is launched, the content opens in the designated Instruction Location (as set in the Content Defaults or Options property tab) on the screen.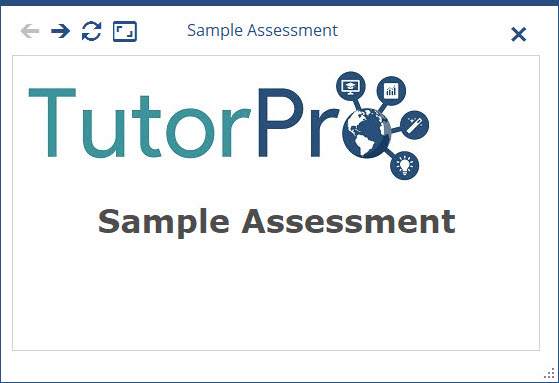 Opening Instruction Frame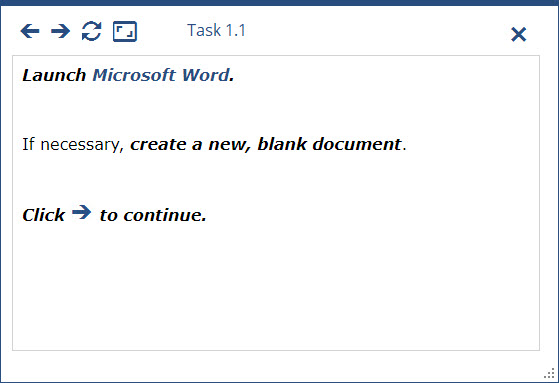 Text Instruction Frame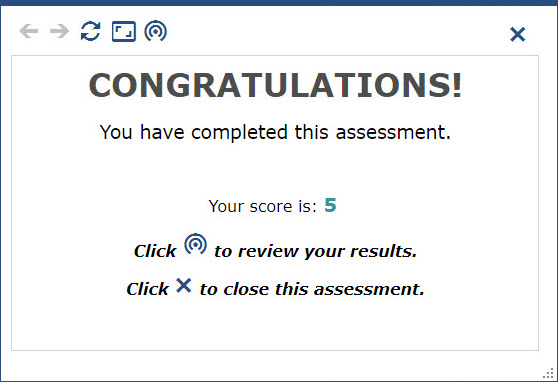 ScoreSheet Instruction Frame
The content Navigation Progress buttons (as set in the Options property tab of the instruction frame) display at the top of the instruction frame. Using the graphic as a reference, from left to right, the buttons perform the following functions:
•Previous instruction frame.
•Next instruction frame.
•Refresh the instruction frame. If the instruction frame was dragged to another location, click the Refresh button to reposition the frame back to the defined location. This icon will display when previewing content, and when Live Content is running for users.
•Resize the instruction frame. Only visible to authors during Preview. Drag the dots in the bottom right corner of the instruction frame to the desired size, then click the Resize button.
•Instruction Title. If the Client Title field on the Theme property tab of the instruction frame in the Content Editor, the Client Title field will be displayed in the center of the Progress bar when playing content.
•Results or

. This button is only visible on the last instruction frame, provided:
oat least one score sheet has been added to an Assessment
othe Show Results slider is active in the Content Settings > Results Options tab.
Clicking the button will display the click-by-click results to the user.
•Close (X). Close the Preview or content.