Feature Release & Bug Fixes – Version 3.12.0.0
NEW – Feature Enhancements:
•Course Assignment – assign individual Courses to a User and set requirements, rather than having to create a Learning Path each time!
•Create and assign Survey-specific assignment emails.
•Create and enable Survey reminder Notifications.
•Improved indication of Event status on the Enroll Summary for Users.
•Settings > Pages – Option to pin the Navigation Menu.
CHANGES:
•In connection with the new Course Assignments feature, the Learning Path card on the Home Dashboard has been renamed Assignments. Learners will see all the Courses and Paths that they've been assigned here. See Image Below.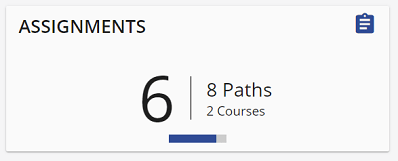 •It is not possible to select courses from multiple categories and Bulk Edit. You can only Bulk Edit from the same Category at the current time. (4391, 4503)
•Modifying the Survey Name, Description, Navigation Panel or Defaults Style will no longer create a new version of the Survey, providing more flexibility when you need to update surveys.
Issues Resolved:
•4011 – The Record Status is showing blank when adding a new user.
•4305 – There is a delay when running a report.
•4354 – Unable to upload images until after the new certificate has been saved.
•4480 -Duplicate feedback responses on Surveys.
•4485, 4554 – I don't see the launch button for my content.
•4502 & 4527 – The Library page hangs if you click More, navigate into an item and navigate back to Library
•4575 – Learning Path Approvals don't show in the card on the Home page
•4600 – Oops error showing in User > Edit when editing a User Type "Contact"