Feature Release & Bug Fixes
NEW – Feature Enhancements:
•NEW – Copy Event – Existing Events can be copied for modification and saving as an independent event in the calendar. All Event settings and parameters including Attachments are copied over except aligned users and the user data.
oLocate an Event on the Calendar.
oHover over the right of the Event Name and click on the Copy icon.
oMake any necessary modifications to your new copied Event.
oClick SAVE.

•NEW – Event Roster
oThe Portrait Roster has been reinstated! From the Calendar > 3 dot > Settings page, you can choose whether you'd like to use the legacy Portrait view or the current Landscape view.
oPage numbers have also been added to the Event Roster.
oNEW – Multiple Free Text Cards on Home Dashboard – You can now add as many Free Text Cards to your Home Dashboard as you wish!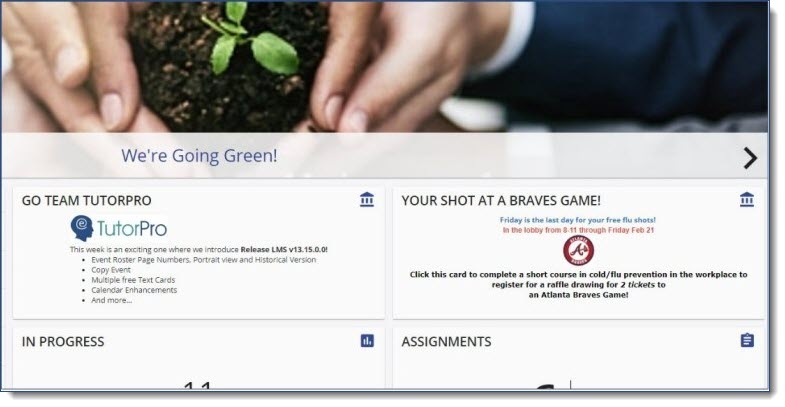 •NEW – Bulk Edit Paths – Expiry Date for Users – From the Users > Paths page, the ability to select multiple Paths and bulk edit the Expiry Date has been added.
CHANGES:
•Calendar – Events with Multiple Locations – The List All view will now show any Event with multi-locations on its own row. (IceM 2570 & 3033)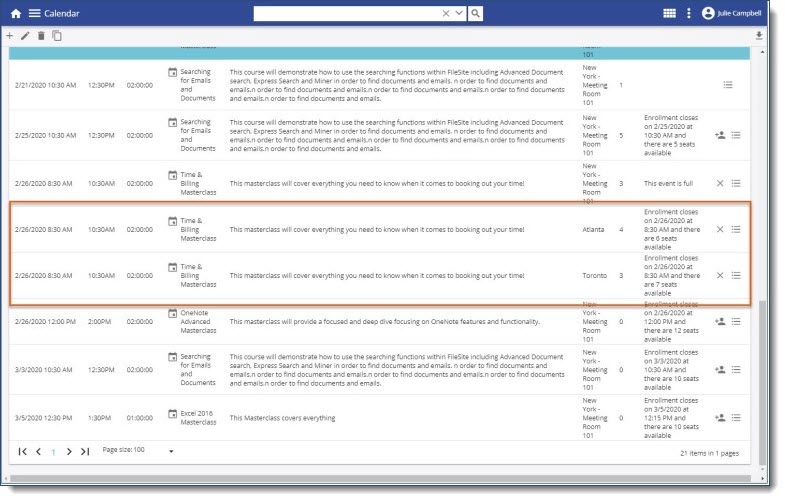 •Calendar – Display Weekend Options – Via the Calendar > 3 dot > Settings page, the ability to Show Weekends has been enhanced to provide more flexibility on 'who' sees weekends in the Calendar. (Ogle 4492)
•Library – When clicking the "More" Button the page scrolls to the top when it should not. (MayerB 5593)
•Library – Best Match for the search is shown at the top (McMill 5312)
•Library – For LMS instances that have the Relevance option turned on by default, Company Admins will now see 'All items' by default but everyone else will see just the relevant items when navigating to the Library. This ensures Admins no longer have to uncheck the option every time the Library is navigated to! (Ogle 2256)
•Library – Clear Text and Filters – Free text Search field cancel option now clears all search and filter criteria (DBR 5584)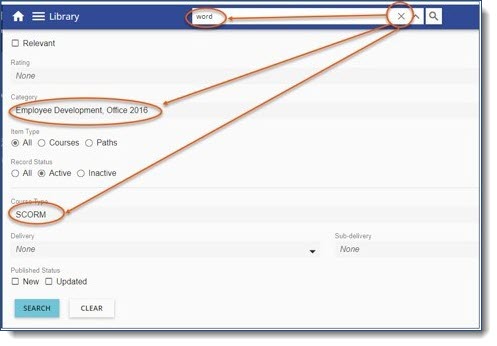 •Learning Record – The Course Duration has been added to the Learning Record page and the Export. (McMill 5401)
•Home Dashboard – Assignments/Paths – When launching a Learning Path, clicking on a folder name will now expand the Tree View (NSLT 3859)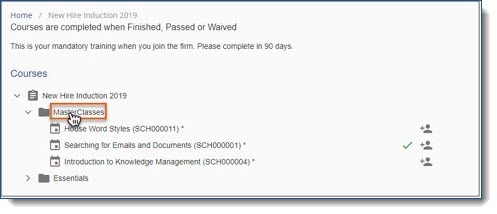 •Home Dashboard – Assignments/Courses – All 'In Progress' Assigned Courses now remain on the Assignments page as well as being accessible via the In Progress page. (TCoburn 4867)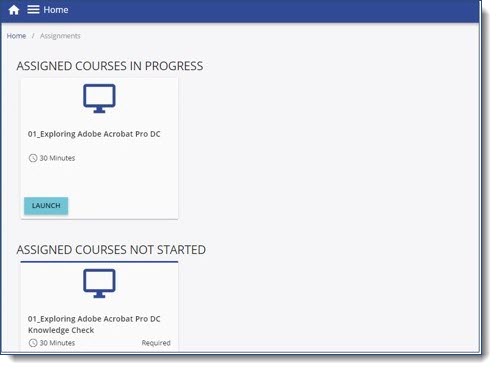 •Communication – Event Cancelled – Email Template (Learners) – This new Email Template will be sent to learners when the event is cancelled. (RPC 3600)
ISSUES RESOLVED:
•Event Request Conflict when enrolling requestees on an event (FieldF 5317)
•Default Venue is not being applied when managing Event Locations (Ogle 4491)
•When bulk updating Users, only the first user is being updated (WMans 5398)
•Library – When 'Hiding Categories on Search' is enabled, Category drop-down menu filter not available (IceM 5517)
•Library – Learner Links could not be customized (MayerB 5403)
•Home Dashboard – One user cannot see their Learning Paths (NSLT 5547)
•Home Dashboard – Courses are being unassigned incorrectly (TCoburn 5402)
•Home Dashboard – News Banner Scaling issue is fixed in IE11 (DEurope 5490)
•History Record – Searching Dates in the Learning Record are not filtering (IceM 5387)
•Unable to update Course Name for External Learning Records (IceM 5396)
•Communication – Signature Senders #4-8 are not being displayed (IceM 5413)
•Emails – A space is being added around the variable in an Email (Procopio 5341)