Feature Release & Bug Fixes
NEW – Feature Enhancements:
•Introducing the LMS Notification Bell

The LMS Notification Bell - System Notifications can be turned on/off by Company Administrators via Settings > 3-Dot Options > System Notifications for the following:
Standard Users
•Notification when a user is dormant in a path for x (amount of) days.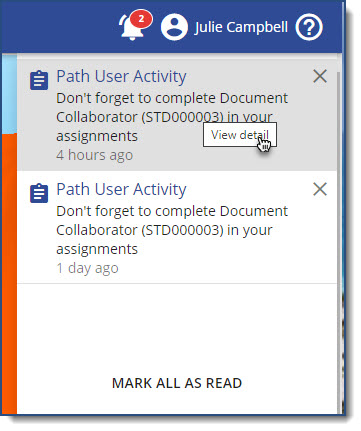 Administrators
•A System Notification is created for Added Courses or if Structure is changed.
•A System Notification is created on Path and Course Completion when Notify when course completed is checked within the Course/Path (Company Administrators and Course Administrators).
•LMS Notification for each newly added entry as follows via User Import.
oAdded Users (Company Administrators, User Administrators and added user's Supervisors)
oAdded Locations (Company Administrators and User Administrators)
oDepartment (Company Administrators)
oPractice Area (Company Administrators)
oProfile (Company Administrators)
oTitle (Company Administrators)
Event Contacts and Event Administrators
•Notification if an event has ended by x (amount of) days and user history has not been updated.
1.Library - Course and path related notifications
2.Calendar - Event related notifications
3.User Import - notifications related to user import parameter updates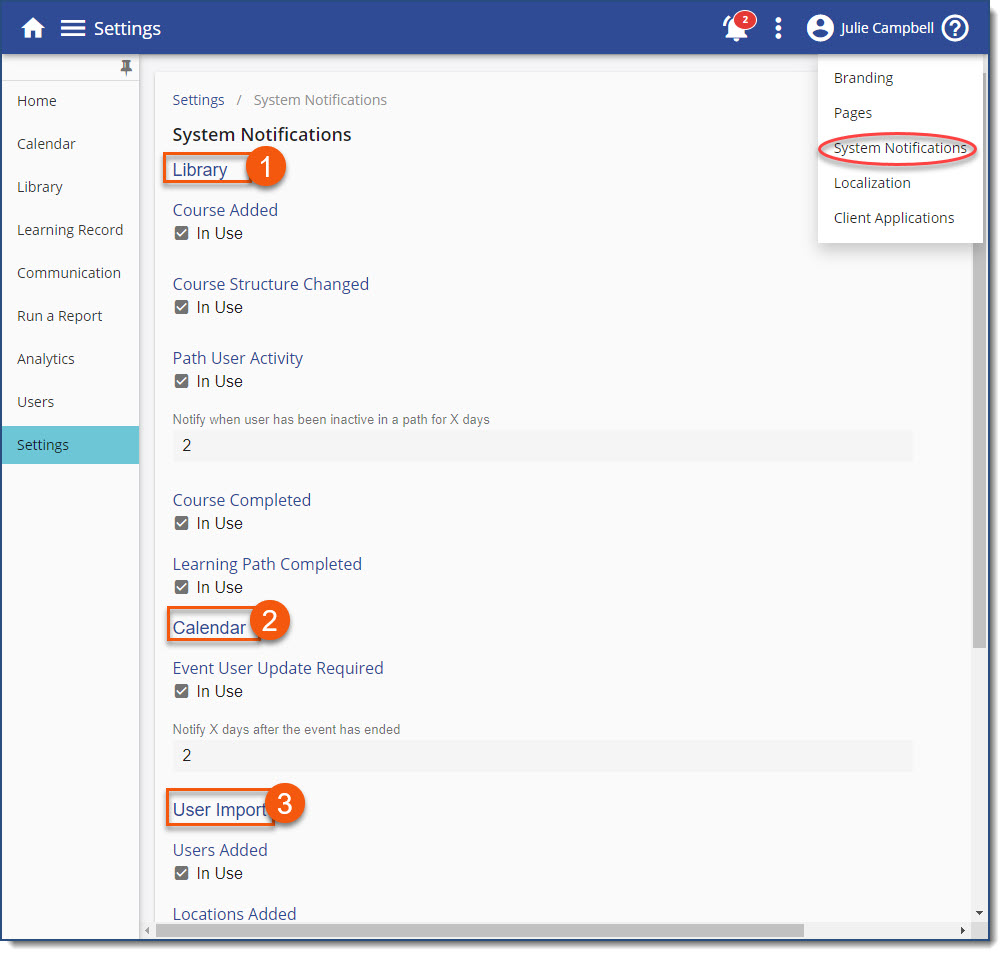 CHANGES:
•API Enhancement – New property 'overwrite_security_profiles' optionally allows the current LMS Security Profile fields to be overwritten when value is set to true.
ISSUES RESOLVED: 
•Library 
oCompliance Body Courses - Error when adding Courses to Body, more Development tracking was added to better assist (WMans 5796)
•Calendar 
oEvent Copy - Should copy the Event description, not the Course description. (JW 5983, MayerB 6000)
•Communications 
oSend Emails - Issue in Replace Invalid Html Tags, ending HTML tag not being populated. (MayerB 6003)