Feature Enhancement & Bug Fixes

Available March 4, 2021
NEW
Attendance Update Required Indicator Flag
A flag has been added on past events in the Admin Calendars as a visual indication when any user(s) remain in "enrolled" status. Marking attendance on all attendees to a status besides enrolled will clear the flag.
The Calendar legend has been updated to include the Attendance Update Required feature.
This feature is enabled by default and there is no configuration option to disable it. The indicator will appear as soon as an event end time has passed, as long as any enrollees are in "Enrolled" status.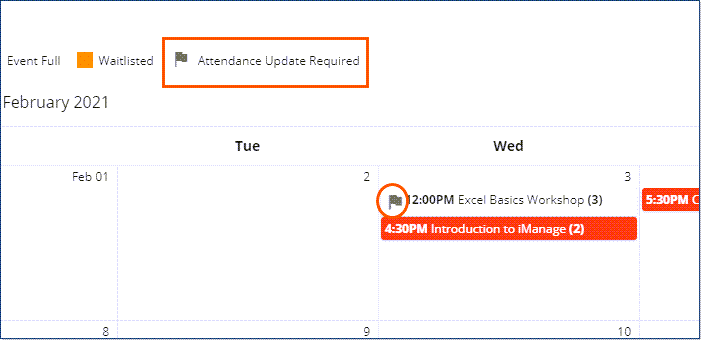 Related tip: Event Contacts and Event Administrators can also receive a system notification, as a reminder, when an Event User update is required.
Calendar Event Border Style
The borders on calendar events have been softened up to appear less intrusive and stark in a very busy calendar for all views.
ISSUES RESOLVED:
•User Selector is not returning the correct users when searching by Start or End Date (8848 FisherP)
•Path > Courses - when I add a folder I don't see the Folder icon (8850 FisherP)
•My Path - Accessibility isn't working and a blind user is struggling to complete their path (8988 NSLT)
•Communication > Send Email Event broadcast emails - the events should be sorted in date order (8994 Simmo)
•Calendar - users aren't seeing the Add Me to the Waitlist button on full events (8999 TCoburn, 9019 IceM)
•Exclude .map files from published release
----------------------------------------------------------------------------------------------------------------
Any Issues listed below this line were added after Feb 22, 2021 when LMS v3.26.0.0 Release Notes were originally made available.
----------------------------------------------------------------------------------------------------------------
•Event capacity limited to 999. Increased range to 5000. (9133 DBR)
•Attachments panel displaying incorrectly in Library. (9153 GStorrs)