Feature Enhancement & Bug Fixes
Available tbd
NEW

One-Time Automated Notification Relative Timing Options
Automated Notifications include a One-time Timing Option Type used to define the desired delivery time of a notification. The Company Administrator can use the options associated with this notification type to specify the desired Send Notification integer (i.e. #of days/hours) and select from the Interval Period dropdown (Minutes/Hours/Days/Weeks/Months) relative to the Before/After Start Date. The One-Time Timing Option is available for:
•Global Automated Notifications
•Course-specific Notifications (Certificate Notifications only).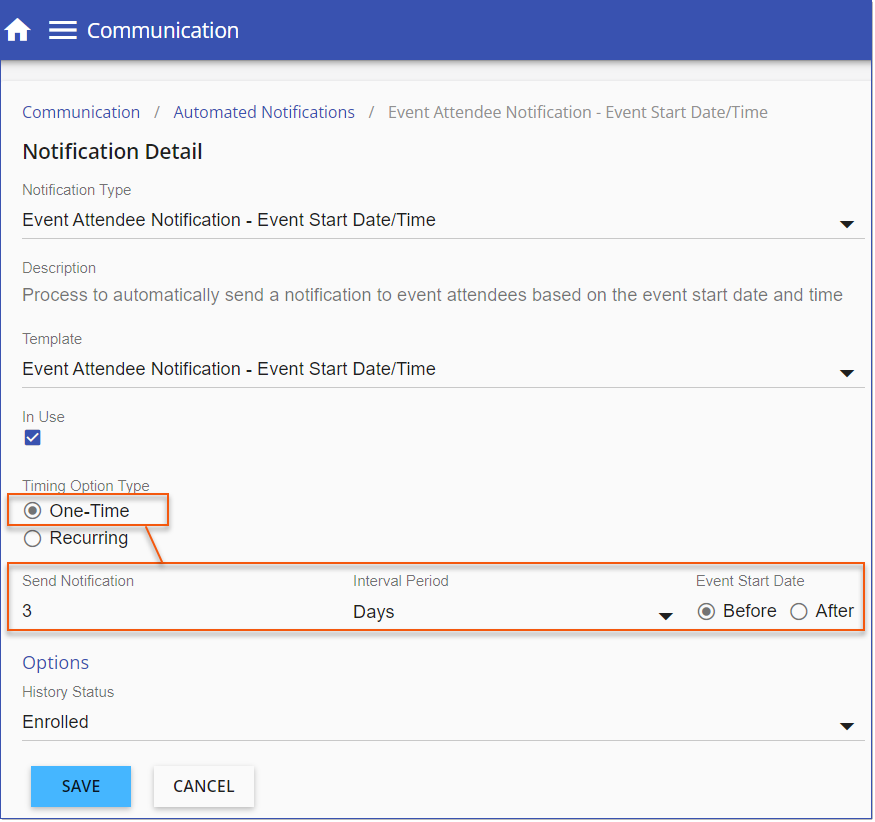 One-Time Notification Timing Option Type

Automated Notifications - Path Completion Status Option
Path User Notifications include a Completion Status Option that can be used to deliver notifications to assigned Users based on their path completion status. This option is available in both the Path User Notification - Path Start Date and Path User Notification - Path Expiry Date notification types.
Path User Notifications can be targeted to specific completion status by applying the filter via the Options > Completion Status dropdown.
Available Completion Status includes:
•Open Complete
•Open Incomplete
•Closed Complete
•Closed Incomplete
•Cancelled
•Approval Pending
•Approval Declined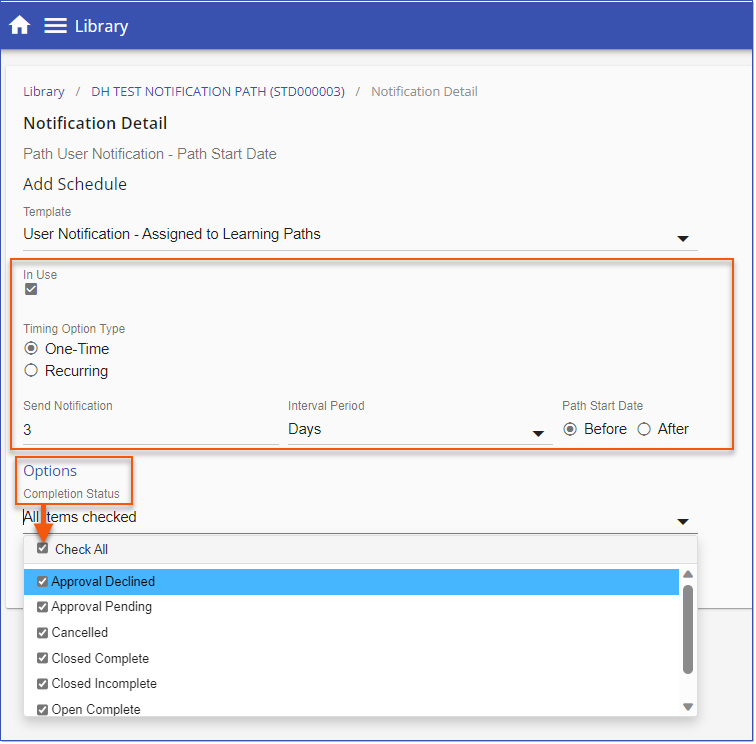 Path User Notification Completion Status
This feature is available for both One-time and Recurring Notifications.

Recurring Assignment for Learning Paths
Learning Paths include a Recurrence Option that can be applied to a path relative to the Date Assigned or Completion Date. When Recurrence is marked as In Use, the recurrence will be applied to any users assigned to the path. The automatic process will reassign the Path to Users based on the Recurrence rules set by the administrator, i.e., once per year, once every six months, etc.
Add Recurrence to a Path
Recurrence is added to a Path via the Path > Details page. Check the Recurrence 'In Use' checkbox then select the Recurrence Edit button to set the Recurrence rules.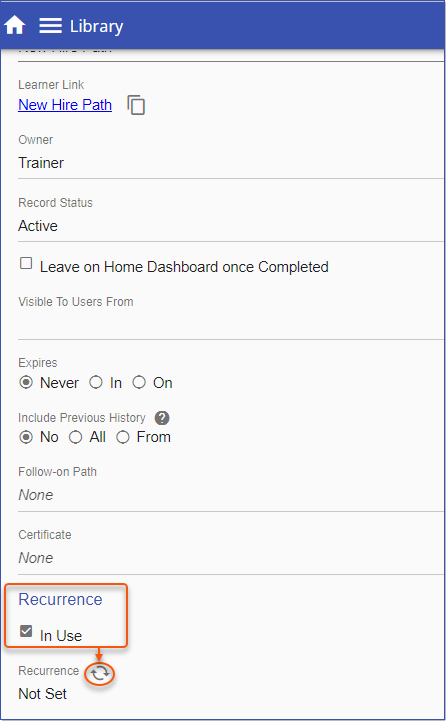 Add Recurrence to a Path
Recurrence Options
•Recurrence Pattern: how often the Path will be reassigned to Users, i.e. weekly, monthly, or yearly.
•Recurrence Range:
oStart Date - date assignment begins (Date Path Assigned or Path Completion Date)
oEnd Date - how many occurrences of the Path assignment/reassignment will take place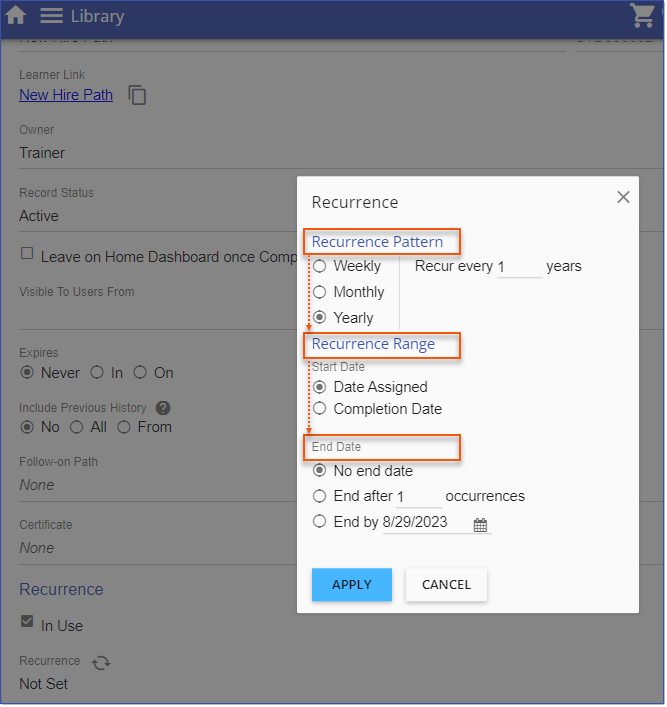 Learning Path Recurrence Options
Filter Library for Recurrence Items
A Recurring filter is available for Administrators to quickly see Library items where Recurrence has been assigned.
1.Expand the Library Search Filter
2.Select the Recurring checkbox and click Search.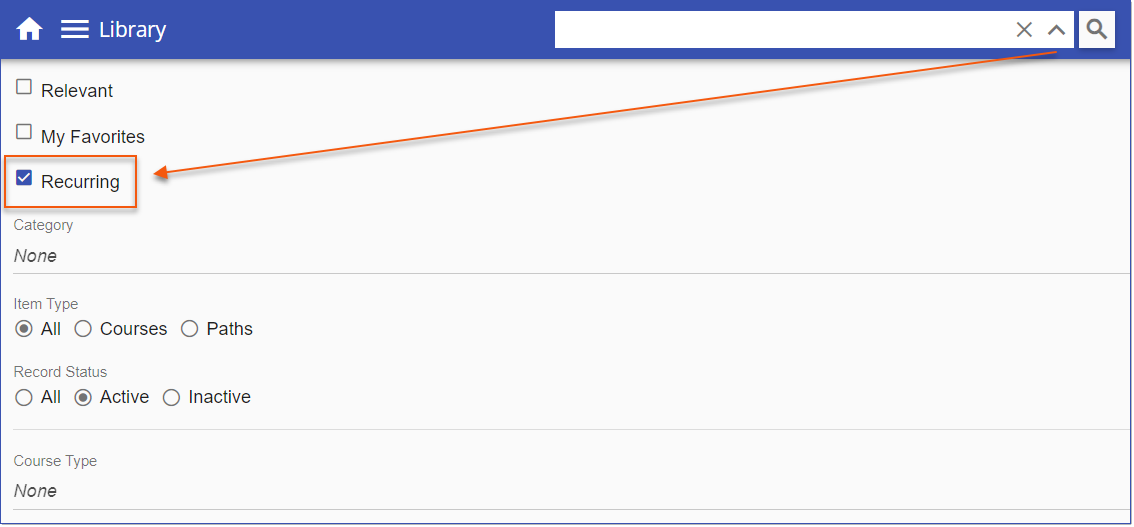 Library Recurring Filter

License Expiry Notification Banner
A License Notification Banner, turned off by default, will display and be visible to the Company Administrator in the event your Intellek license has expired. The banner, "Important. Your Intellek renewal is past due. Please contact accounts@intellek.io to ensure there is no disruption to service." will display at the top of the dashboard.

LMS License Notification
ISSUES RESOLVED:
•Analytics Report not downloading (14397, Ogle)
•Send Email ignores template CC(14975, Ogle)
•Event-specific Notifications are sent for the wrong events (15087, Gray)
•Path Course History shows incorrect dates for Scheduled Events (14980, WMans)
•API GetLearningRecordsonly returning records for active courses (14969, FieldF)
•Some LMS items cannot be clicked when using fr-CA lang (15129)
•History Supporting Document Notification is causing an exception (internal)
•Titles search is case sensitive (15099)
----------------------------------------------------------------------------------------------------------------
Any Issues listed below this line were added after August 29, 2023, when LMS v3.53.0.0 Release Notes were originally made available.
----------------------------------------------------------------------------------------------------------------