If a Compliance Body is not available, or you need to create an in-house Compliance Body, you can create your own from the Compliance page.
1.Navigate to the Compliance page.
2.Click Add a new record

.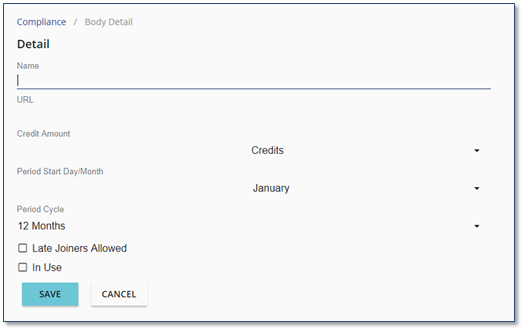 3.Type a Name for the Compliance Body.
4.If known or available, enter the appropriate URL.
5.Enter a Credit Amount.
6.Click the Credits arrow to define whether the Credit Amount should be calculated as Credits, Hours, or Points.
7.Under Period Start Day/Month, Enter the Day of the Month when the Compliance Period begins, then click the arrow on the right to select the appropriate month.
Example:  If the Compliance Period is from July 1 to June 30, complete the Period Start Day/Month fields as follows:

8.Click the Period Cycle arrow to define the number of months to be included in a reporting period. Options are: 12 months, 24 months, or 36 months (California).
9.Select the Late Joiners Allowed check box to include Late Joiners (those who join the firm in the middle of a Compliance Reporting Period).
10.Select the In Use check box to activate the Compliance Body and include it in the list of Compliance Bodies.
11.Click

.
12.Follow the steps under Assigning Courses to a Compliance Body and Assigning Users to a Compliance Body.