To view, approve, or decline Course/Path Reviews:
1.Click the Rating Review Approvals option from the Library three dot Options menu.
2.OPTIONAL:  Click the Show

icon to view all ratings or only Course or Path ratings, and then click

.

The results will be listed below the Search options. Click the Hide

icon to hide the Search options.
3.Select the User's Name.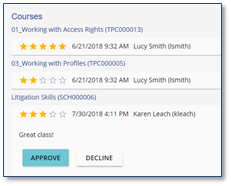 4.Click

or

.
a.Approving the Review will:
i.Change the Star color from gray to gold on the Learning Record.
ii.Show how many users chose each Star rating for this Course.
iii.The user Review comments will be visible to all users when they click the See all reviews link.
iv.If the Show user info check box is selected in Library > Settings, users will be able to see the name of the user who provided the Review.
b.Declining a Review will require you to provide a brief explanation for declining the Review.
i.Click

to hide the Review comments from other end-users. The Star Rating will still be visible.
ii.Click

to send the Reason Declined message back to the user.

You may also want to ask the user to provide further explanation regarding their Review and/or suggestions for improving the Course.
1.The user will receive an email with your response which includes a link to change and resubmit their Review.
2.The Review will remain Pending until it is either Declined or Approved.