Start developing your Course structure by hovering over Add Course

to show the Add Folder option.
1.Click Add Folder

.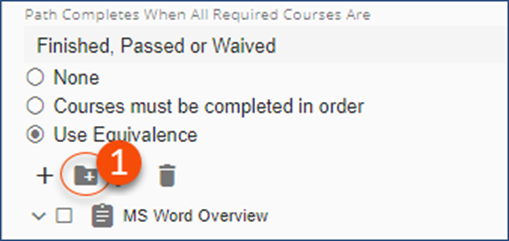 2.Name the folder.
3.Select the Is part of Equivalence check box for each folder you want to include as an alternative for the other equivalence folders within the path.

Users who complete any ONE of the equivalence folders in a path will no longer be required to complete any other equivalence folder(s) in the path. If ONE equivalence folder is completed AND all other required NOT-Equivalence Courses and folders are also completed, the Path is Complete for that user.
4.Click

and repeat steps 1-4 for as many Equivalence folders as you need.
5.Select a folder and add one or a set of Courses to the folder. Each new equivalence folder you add, regardless of the contents, should be interchangeable/equivalent. Users can select one folder from all folders marked as part of Equivalence to complete the goal of any/all equivalence folders.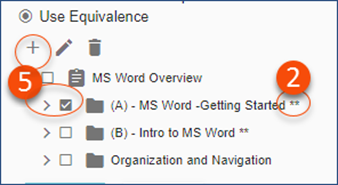 6.Add additional folders.
a.

End-users choose ONE folder from all Equivalence Folders offered in the path.
b.

End-users must complete EACH.
7.Click

.