* Required
1.* Course Type
2.Import zipped course content - (not applicable to Scheduled Course Type). Use this tool to rapidly upload zipped course content (maximum zipped file size - 1.1GB). After Saving, you can update the content via the Structure tab.
3.* Course Name - a course title used in searches, reporting, communications and Library Card display.
4.* Course Identifier- a unique identifier for courses used in searches and reporting
5.* Owner - identify the sender of any course communications
6.* Record Status - Courses are Active and available to those with access in the library until marked inactive.
7.* Delivery
8.* Sub-delivery
10.* Duration - The expected time it takes to complete the course here in the units (Minutes/Hours) defined below. Expected duration displays on the course summary and library card. This can be set in Course Type defaults for faster course creation.
11.* Duration Unit - Unit of time for step 10 above (Minutes/Hours). This can be set in Course Type defaults for faster course creation.
12.Category - determine in which Category or Categories (and/or subcategories) this course will be found in the Library.
13.Card Description - a un-formatted, possibly more concise, version of course description that displays on the Library Card. If left empty, the Course's full description, stripped on any formatting, will be used on the Library Card. 200 Character limit.
14.Description - a formatting friendly editor for entering a full Course description. This description displays on the Course summary page and is available as a variable for Course communications.
15.Vendor
16.Language - to identify the language of the Course.
17.Search Keywords - Library search queries Course Name, Course ID, Card Description, Course Description, Category. Keywords give an alternate search point. Import Keywords from the file's tags metadata for General and Resource Courses in bulk or one at a time.
18.Outline URL - a place to store a useful resource link for Course administrators and Event contacts
19.Certificate
20.Survey
21.* Browser Compatibility - Set to the Latest by default, this field gives you the opportunity to define the preferred browser compatibility setting for the Course content.
22.Notify when course completed - (displays only when Course Completed System Notifications are enabled)
23.SAVE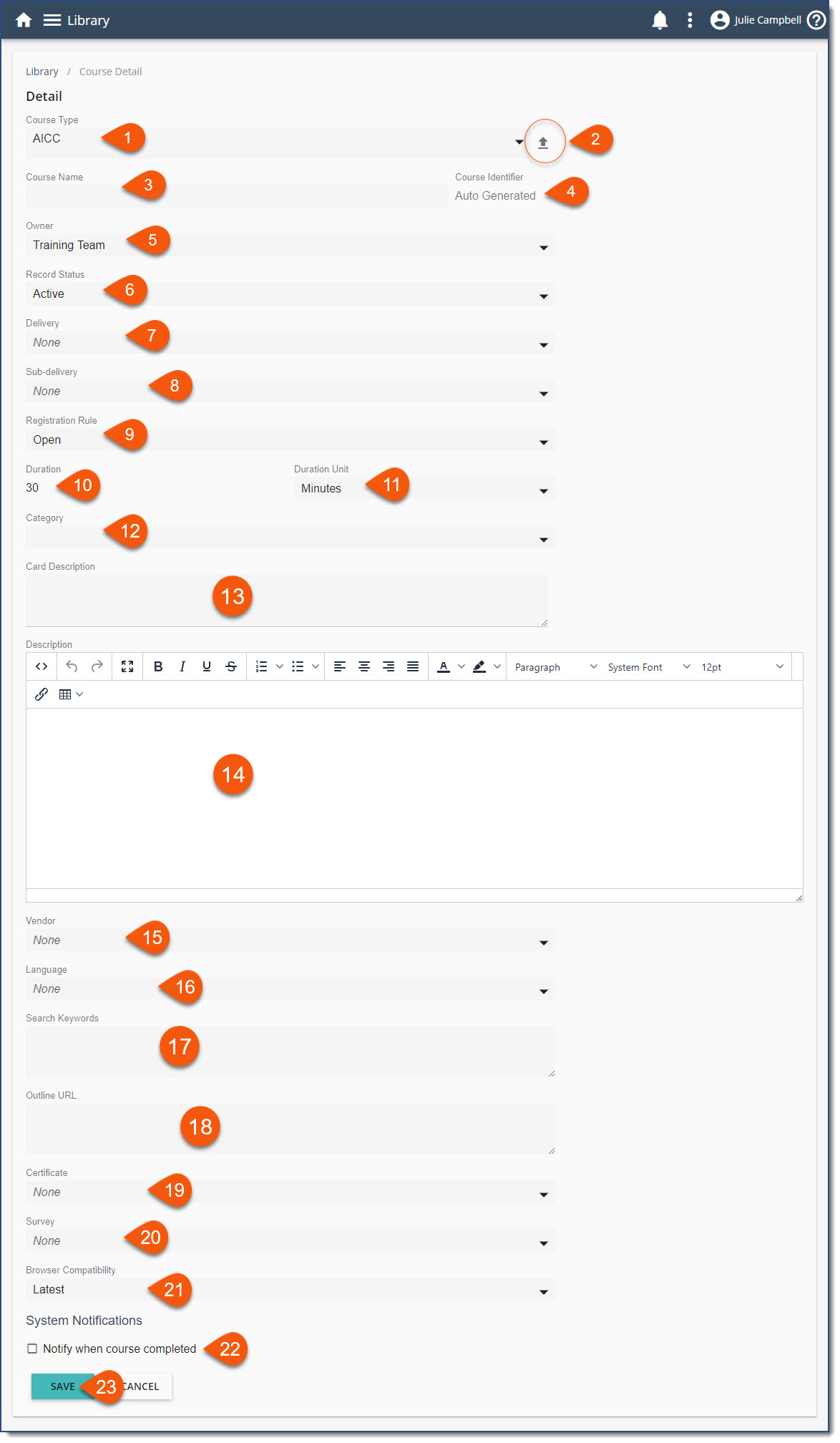 Complete the information on the other tabs (see the Course Details Page topic) on the right side of the page as required.
Click

.